Where to start? my brain is going from left to right with memories from this day!
That's a good thing as the car did a very good job of not sending me home in the first hour! 🙂
The (bumpy) road to it…
With most trackday prep it comes down to the final few hours just before the event… this day was no execption, but for the Discovery!
It lost the clutch slave cilinder on wednesday and I was leaving on Thursday… you know, to prevent going away super early and stressfull.
Only that super early part i manage to skip. Luckily the local Land Rover specialist had 1 in stock and in less then 2 hours i was on the road again.
Got everything loaded into the discovery, hitched the trailer and got the BMW securely on it, and around 15:00 i left with the destination Les 3 Salamandres in Yvoir, Belgium which is, by the way, a super nice place to stay and trailer friendly!
Anyway, the route to it was fine for the most part and just south of Maastricht, Holland fellow racer Jan Heikamp caught up with me and from there on we rode in convoy to our hotel.
The hotel's driveway is a tad steep though, for cars with no low-range gearing you need a bit of momentum.
Other than that, super friendly people, good breakfast too!
And a very curious cat too!
The real bumpy part…
As i borrowed this nice riding Brain James trailer from fellow lunatic Djessey, the tail of his trailer was riding serious low. And with Belgium being famous for their gloriously smooth roads… all went silent and smooth.
Not.
Guess most of the french speaking people in Belgium must have heard me scraping, banging and all out ratteling trough their country side and towns.
Or i should look for a adjustable height tow ball, that will be fixed on a shorter time frame then their roads i guess.
How low is the trailer in the rear?
This low:
This gave some scraping noises at this railway crossing for example:
So, euhm, Djessey…. if you need a few bits of iron that came from your trailer, i know where they are 🙂
Trackday start
Facksels, still an early start, well relatively then as we wanted to be at the track around 08:00.
Ah well, the trackday nerves helps you get up early!
We got the cars unloaded, set up the awning for some much welcoming shade and got our numbers.
The track itself
Yeah about that… i knew it is a small track, designed for motorcycles… and that is good to see as most of the corners are hard-left/right turns (90 degree) … still it isn't that bad, the first 4 corners after the timing beam you need to line them together so it is 2 turns (first 3 are left, last one is a right hander) and with the height difference between them not so easy to get perfect.
To get the bad news out of the way now, i give this track a 6 out of 10
It has some technical turns yes, 1 high speed turn and a super super nice chicane with 2.5mtr height drop!
But like i said earlier, most of it are hard left/right turns or hairpins, there isn't much variation in turns.
The layout is not hard to master and i could shave a few seconds more from my laptimes when i get more confident in the car.
Would i go back?
For the money, absolutely yes, the entry fee is very low compared to anything else in Holland but then again, the track isn't an F1 track compared to Zandvoort/Assen/Spa.
For the track experience, im still on the fence.
But how did the SAAB go?
Well that's what me got excited about the most.. how will she do it? and will she drive all day?
Answers to that are Yes and No… and Oeps!
Yes!
After starting the day with fixing a fuel leak (AN 90 degree to push-on hose came loose/never was thightend enough) I started out slow, getting to know the track, well that part was easy, and getting some temperature in my tires & brakes so i could set up my brake balance.
The car felt a bit loose in the longer turns so setting the rear shocks 2 clicks softer seemed to cure that issue.
It did lack a bit of top-end power… after disabling the blowoff (no more pssssst but sutututututu) it got better!
So much in fact that my friend Jan in his otherwise stock 325i hardly could keep up.
Yes on the straight i could recover some time but on the twisties the SAAB has a lot more torque to get out of the corners… oh, and i can brake about 1,5 car lengths later!
After batteling it out for about 10 to 15minutes we stopped for a breather and a chat.
Apparently Jan was seriously pushing to get by!
And I was driving on 8/10ths or so, not really confident in my brakes yet… and the car wasn't on rails as i wanted yet.
wow!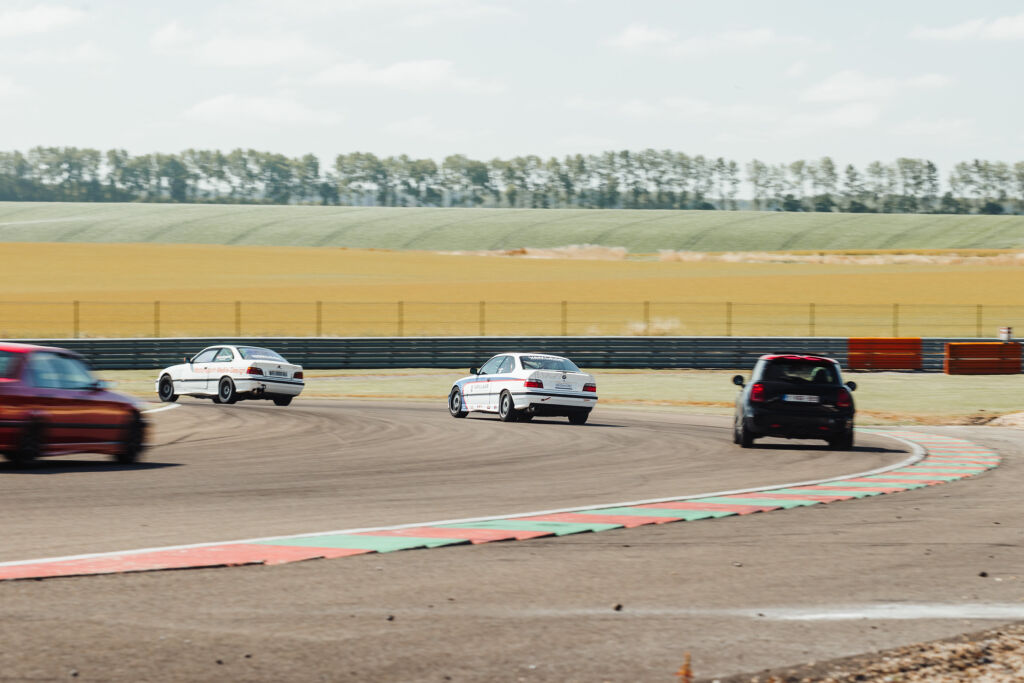 That breather was also required by the car itself, everything got now up to working temps…. and so hot that the oil got a bit toooooo thin.
After 15minutes of driving properly on track it has 0.3bar oil pressure on idle as the oil light flickered on under seriously hard braking attempts (like properly standing on the brakes!)
Also noted that i still have some slight oil leak at/around the turbo oil feed as it kept smoking under the hood.
After adding a few 100's cc of oil for safety i went out again.
The Oeps part
After that breather we both went out again, as i was warming up my tires and brakes I thought "lets try that ride the curb on the exit of the chicane"
That didn't felt right and i thought "Don not do that again" … and it was time for braking into a technical hairpin… But somehow i managed ending up the gravel trap, facing the wrong way!
I have no idea how that happend, yeah, the car snapped away from me.. but the cause of that?! i have no idea.
The NO part, but first more YESYESYES
After undowing lots and lots of gravel we changed the semi slicks for the full slicks.
Oh
My
God
That made all the difference!! So much more traction and overall grip!
Braking is also on another level!
No words for it… so much more fun!
Managed to bother M2/M3's in the corners, the straights i was no match with my 152hp 🙂
To that belgium black M2 hopefully i didn't scare the shits out of you when i overtook you on the outside in turn 1/2/3 😀
Then the no started….
No (not again…)
yep, the clutch started to act up again.
It was a serious improvement compared to previous outings as it now was 25'C ambient temp and me pushing the car seriously.
Still got heatsoak issues in my clutchline, and this ended my day at 15:30ish?! don't really know exactly.
All in all:
Yes, i'm a bit unhappy it ended my day relatively early, but on the other hand it showed already so much potential!
I mean, i'm already faster then Jan with his 325i (which is stock: carpet with cage/seat/suspension) but he has done 3000km track km with his car and i'm barely touching the 300km… so i'm extremely stoked with that!
I'm sure there are faster 325i's out there, don't care, this is my friends car and therefor the only benchmark for me.
All in all it was an absolute blast!
Things to do:
Re do the heatwrap on the downpipe;
Adding a second layer of insulation on the downpipe;
adding a second heat shield between the downpipe & clutchline;
Buy more slicks!
Change the engine oil to 10W60 or so;
Add the hot air exit duct for the radiator;
DO NOT ADD MORE POWER YET!
The next serious day out will be in November at Spa, doubt it will have heatsoak issues there…
Peter.
Moar images